Discovering Barcelona, Unforgettable Learning Trip: On February and March 2023, we hosted at our Lab in Barcelona IN&CO a team Company from Team Academy Switzerland (HES-SO University of Geneva). In this article, the team entrepreneurs tell ut the experience with our team companies and what they had learning during the journey.
Welcome, dear readers! We, IN&CO, a Swiss team company, recently had an incredible 3-week adventure in Barcelona, along with Parallel, Yunion, and INOX. Our mission? Immerse ourselves in the city's thriving startup scene and learn from Team Academy companies, startups, and entrepreneurs.
Barcelona's unique combination of innovation, entrepreneurship, and Mediterranean charm created a perfect environment for us to grow and bond as a team. We collaborated with Spanish start-ups, exchanging ideas and learning from their unique challenges and successes, which enriched our perspectives and fueled our growth.
In addition, our journey was packed with inspiring encounters, valuable lessons, and memorable events, like the Mobile World Congress and the Startup Open Coffee Networking. We expanded our network, forged new partnerships, and found inspiration in every corner of this beautiful city. This article will present all of these in a few categories : international mandates, external events, team building activities and international development.
The experiences we shared and the lessons we learned have left a lasting impact on our team. We're excited to apply our newfound knowledge and connections to our work back home. We hope our story inspires you to embark on your own learning adventure!
International mandates
In order to discover different ways of working and visions of entrepreneurship, we wanted to have concrete experiences of working with "non-Swiss" companies. This is how we were able to work for a restaurant in Barcelona called "La Fuga". It was during a lunch enjoyed in this wonderful place that we approached the local company. After learning about the essence of the place and the needs of the founder, we worked as a team for a whole day to propose multiple solutions to meet their challenges, such as improving online visibility or increasing their average basket value.
On the other hand, during a networking event, we had the chance to meet the founder of a startup connecting freelancers with companies. We proposed her, in exchange for a UX design workshop, to work on several problems encountered by the young company. We divided our team into 3 poles : market research, sales and business analysis. The first pole's role was to clarify the target customer segment and the viability of the project. The second group focused on the acquisition of new customers and, if the latter was impossible, on the reasons why. Finally, the last group was in charge of analyzing the company's current presence in order to identify areas of improvement and suggest optimization measures.
These different experiences not only allowed us to discover other work and entrepreneurial cultures, but also to work together on a single project, in order to use the potential of all the members of our group.
External events
Attending events focused on emerging technologies is a fantastic way to stay up-to-date with the latest trends and developments, and our experience at the Mobile World Congress taught us a lot. We learned that collaboration is essential in the tech industry, as many of the successful companies we encountered had partnerships with other businesses to develop innovative solutions. Additionally, we discovered that technologies like 5G, IoT, and AI are advancing at an incredibly fast pace, and it's important to stay up-to-date with these advancements to remain competitive in the industry. Finally, we realized that networking is crucial for building relationships, exploring potential partnerships, and learning about the latest trends and opportunities. Overall, attending events like these is a great way to gain new insights and keep up with the latest in technology.
Our adventure continued as we found ourselves in the Startup Open Coffee Networking, a treasure trove of entrepreneurial wisdom. With every conversation, our team expanded our horizons, connected with kindred spirits, and glimpsed the potential for new clients and partnerships. Thanks to this event, we were able to create two opportunities with two start-ups that will be presented later and an inspiring meeting with a business angel.
As we ventured further, we visited Tandem Social, a consulting firm dedicated to guiding companies on their quest for sustainable missions. They imparted upon us three invaluable lessons:
The magic of forging powerful partnerships to create a nurturing, protective, and growth-inducing ecosystem for sustainable businesses
The extraordinary power of team learning under pressure, showcased by crafting a business model in a mere 10 minutes
The concept of ESS (economic social solidarity), a Spanish legal framework and community for sustainable businesses that receive special attention and support from the government.
Inspiring encounters
We have had many inspiring encounters, and from them we have learned valuable lessons. For instance, an investor shared his life experience with us and gave us tips on how to pitch a project to investors. He emphasized the importance of talking about customers and not just the product. It is also important to simplify the pitch, use concrete examples, and avoid technical explanations and too many graphics. Instead, focus on interaction with investors and answering their questions clearly and concisely.
We have learned that a minimalistic presentation and a great pitch are important for capturing the audience's attention. This relates to interpersonal communication skills. It is also crucial to start by identifying our interests, testing them out, refining them, and iterating until we find what guides us. This relates to self-leadership skills. Another important lesson is to surround ourselves not only in our project but also in everyday life. It is crucial to define roles when building a team to avoid frustration later. This touches on the network creation and leadership skills. Furthermore, it is important to expand our knowledge and experience to define what we want to do. This also relates to the self-leadership skill.
We also had the chance to participate in the team learning workshop from Filipe LEINN grade coach. We discovered the several stages that must be considered to learn as a team: Orientation, Dissatisfaction, Definition, Clarification, Resolution, and Production. We have learned that in order to become such a team, we must be committed to working together effectively to achieve ambitious goals and produce exceptional results. We must share a common vision and set high standards. We have been able to explore various theoretical aspects of high performance, such as the Drexler model or how to generate a DOSE (dopamine, oxytocin, serotonin, endorphin) of happiness within the team. This workshop was also an opportunity for us to discover 10 typical profiles of a high-performing team.
Finally, these encounters have taught us valuable lessons that we can apply to our lives and our projects. We must keep in mind the importance of customer-centric presentations, the value of minimalism in presentations, and the need to define roles when working in a team. We must also expand our knowledge and experience to achieve self-leadership, and we must understand the different stages of team dynamics to ensure effective collaboration.
Team building activities
The benefits of team building are well known : strengthening team cohesion, improving communication and problem solving, generating motivation and reducing stress are some examples.
With this in mind, we have set up several group activities. Since we consider ourselves a learning team that wants to be competitive, we had to introduce competition within the team ! This is why we chose karting and a beach volleyball tournament. These events allowed us to improve the overall team dynamic, which was put to the test by this three-week group trip.
In addition to the competition, this learning experience was also an opportunity to get together over some great tapas and fresh beers to enjoy FC Barcelona's victory over Real Madrid !
International development
Everything regarding this learning journey grew from a central piece : the why. Simon Sinek, through his concept of the golden circle, explained that knowing why you are doing something is your number one priority. From the why will flow the how and what. (Sinek, 2009, p.18)
With this mindset (pushed by our coach Jean-Charles Rey), we took the time and effort to rigorously create a meaningful why :
During this learning journey, we aim to have collaborations that will allow us to discover new facets on cultural, academic, and entrepreneurial levels. We seek adversity and pleasure in our actions to strengthen the team's bonds and dynamics. We wish to have a sense of accomplishment and satisfaction regarding our activities and our progress as a learning team.
This statement was built on three axes :
The aim for collaborations in order to grow as humans, entrepreneurs and students.
The research for challenging and pleasurable situations that would help us get stronger as a team
Evolving as a team through satisfaction, getting closer to our goal of becoming an efficient learning organization
Essentially, our why was positioned to make In&Co a learning organization. According to the American Psychological Association (APA), a learning organization is defined as "an organization that facilitates the learning of all its members and continuously transforms itself" (Marsick & Watkins, 2015, p. 4).
Becoming a learning organization can be challenging because it requires a significant cultural shift within the organization. It involves moving away from a traditional, hierarchical structure to a more open and collaborative approach that values learning and innovation. Despite lots of challenges, many teams have successfully made the transition to becoming a learning organization. By embracing a growth mindset, valuing collaboration and experimentation, and investing in resources and infrastructure to support learning, they have achieved greater innovation, adaptability, and resilience in the face of change.
In his book "The Fifth Discipline" Peter Senge outlines five disciplines that are essential to achieve this level of organizational excellence. (Senge, 2006) Among them :
The third discipline is shared vision, which involves the creation of a common purpose and goal among all members of the organization.
The fourth discipline is team learning, which involves the development of the team's capacity to create the results they desire.
As a result of coordinating this trip to Barcelona, we were able to generate a formidable amount of work to build a strong and concrete vision. It is not something that can be rushed or done overnight. It requires ongoing effort, attention, and resources to bring a vision to life. Therefore, it is important to be patient, persistent, and committed to the process of creating a vision.
Organizing this learning journey to Spain gave us the right challenge at the right time to push ourselves to create a vision, mainly through the aforementioned why. We also made sure to share the why regularly, and to remind everyone what the ideal learning journey would look like. This is intimately tied to the fourth discipline : a team's ability to create the results they desire. As students in management and entrepreneurship, we learn to run processes, project management and many more crucial skills for execution, but only with the combination of vision (third discipline) and these processes (fourth discipline) can you really achieve something exceptional.
Our learning journey was a unique way to make progress on personal development, whether alone or in small groups. Every In&Co member reported excellent growth on their individual scale. For example, many of us found once-in-a-lifetime opportunities for future business projects, serendipitous encounters that gave them insight for their leadership skills, or personal challenges, solely from being in Catalonia's capital. If you are curious to know more about these, you can visit In&Co's LinkedIn profile, or the individual LinkedIn profiles.
A sign of professional (and personal) maturity is understanding that everything is part of a system. In the image of a child finding a rock on a Sunday stroll and enjoying it for its sole condition, In&Co's learning journey to Barcelona became the parent that effectively helped the child understand that a rock can be many things, a jewel, construction material or the final touch to an artistic structure.
This perspective is important because it allows us to see the world in a more holistic way and avoid narrow-minded thinking. It helps us to identify the root causes of problems rather than simply addressing their symptoms, and to anticipate potential consequences before they occur, and therefore finding better solutions. By understanding that everything is part of a system, we can approach challenges with a more strategic and comprehensive mindset, leading to better outcomes and greater success in both our professional and personal lives.
This is the power of international collaboration and this is what made this journey special. More than that, this is what made this a true learning journey.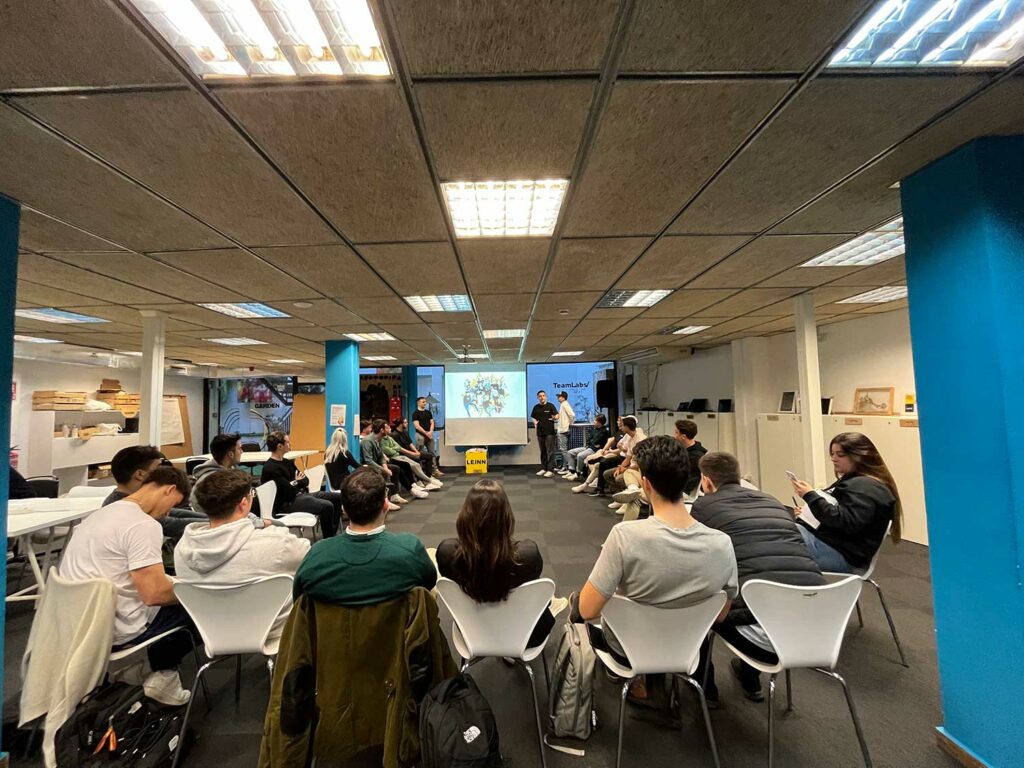 Conclusion
We, Swiss Team IN&CO, had an amazing three-week learning trip to Barcelona with different people and opportunities. The city's startup scene offered a perfect environment for us to learn and grow as a team. We had the opportunity to engage with local startups and entrepreneurs, broadening our understanding of the entrepreneurial landscape and gaining new insights that we could apply to our own work. Through team-building activities, we strengthened our team spirit and broadened our international horizon. We also had the chance to work with non-Swiss companies, where we proposed multiple solutions to meet their challenges.
Attending events such as the Mobile World Congress and networking events gave us insights into the importance of diversity and inclusion in business, environmental and circular economy regulation, and emerging trends in technology. We established professional relationships that led to significant progress on a client project and opportunities for future projects.
Through inspiring encounters, we learned valuable lessons such as the importance of pitching to investors, minimalistic presentations, self-leadership, and team-building.
Overall, we are happy to share our learning and the social, cultural, and professional impact we had during this unique experience. We hope this article gives you an insight into our trip, and we thank you for joining us on this incredible adventure.