By Isabel Ávila, Director of Communication, Marketing and Talent Scouting at TeamLabs/.
At TeamLabs/ -radical learning laboratory- we are coming to the end of a decade, a period during which we have put our efforts into transforming the educational model by preparing young people and professionals to grow in today's society and adapt to the uncertainty we face. We have broken the walls between a strictly study environment at university and a strictly work environment in a company, managing to push higher education beyond the university system with two fundamental methods: learning by doing, common to an action forward university; and doing by learning, common to a company that learns.
And we are starting a new decade, with our partners – Mondragon and Sngular – and new challenges: to transform companies, educational institutions and public administrations by instilling our learning mentality in their culture and hence, turn the world into a radical learning laboratory capable of tackling the complex problems we have and those which are to come.
To celebrate, we've given our brand, our logo, our claim and our promise a makeover, bringing us even closer to our roots: knowledge and the learning process. Our learning mindset is the great ability to navigate unknown and uncertain situations naturally and confidently. Lifelong learning teams in a laboratory culture. Stronger abilities and skills, and trained to deal with whatever is to come.
A vital attitude that we call: Face the Next and that we have turned into our new purpose.
During our presentation of the new era and the new TeamLabs/ brand, held on 19 October at Sngular's Stage One and broadcasted via streaming (you can now watch it on our YouTube channel), we were fortunate to have a great team player as the godfather of our new season, José Manuel Calderón, who played in the NBA for 14 years and is currently a Global Advisor at Sngular.
During the event, Calderón shared his lessons in the NBA and highlighted the importance of teamwork. In this aspect, he said that "TeamLabs is the NBA of team learning" and that for him "TeamLabs represents the place where you learn what I have learned in my life in the high performance teams I have been in".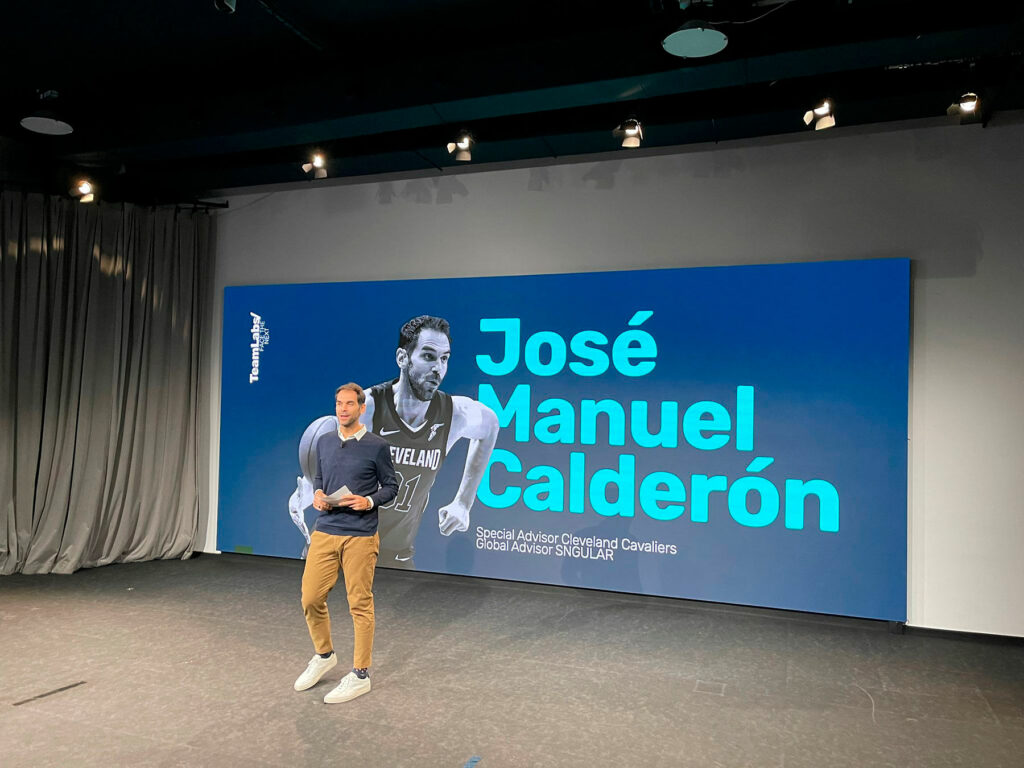 Then Felix Lozano, co-founder and CEO of TeamLabs, explained what we have learned at TeamLabs in the past 10 years, which is "that when a team trains its capacity to learn as a team every day, the team ends up acquiring a certain mentality, a different way of being on the playing field, of understanding work and of being in the world; an extraordinary capacity to face the next big thing, the next changes".
In regards to Berta Lázaro, co-founder and director of TeamLabs Barcelona, she addressed the meaning of laboratory culture: "We are inspired by the culture of scientific research laboratories, citizen laboratories and social innovation laboratories. In all of them, experimentation is the way to approach challenges that we want to take on, problems that we want to tackle, that feel too complex to solve and the ability of planning and strategising".
Regarding the challenges that TeamLabs will face, Ibai Martínez, co-founder and general manager of TeamLabs, pointed out that "with university students, our main challenge is multiplying the impact that we are generating from LEINN" and presented the launch of a Talent Investment Fund which makes sure that no candidate is left out of LEINN for economic reasons. As well as creating a new university programme that represents a real breakthrough in regards to computer engineering.
Regarding the challenges with corporations, Ibai Martínez stated that "we are working on developing a solution for corporations that integrates the entire Learning strategy in the same digital platform, which also follows our methodology". He also indicated that we are strengthening our commitment to projects that accompany the transformation of educational institutions and that more and more public administrations see TeamLabs as an ally that can add to their strategic and territorial developments.
You can read the full presentations of Félix Lozano, Berta Lázaro and Ibai Martínez.