We are something else. We are a radical learning laboratory where we train teams that learn, teams that face uncertainty without fear of not knowing, teams with a constant and continuous learning mentality.
We are a radical learning laboratory because we embrace the essence of that learning. We live learning and we learn by living. We work by learning and we learn by working. And we put that learning in the hands of people, encouraging them to be the ones who choose what to learn. It is the fundamental difference between training – what others tell you that you have to learn – and learning – what you want to learn.
We are a radical learning laboratory because that is our framework. Like any laboratory, we do, we experiment, we make mistakes, we evaluate, iterate, we prototype and from all that, we learn.
Be part of the group of YOUNG people with advanced talent willing to lead what is to come.
Promote change in your COMPANY to lead in uncertainty.
Create an alternative to the EDUCATION model that prepares us for what follows.
Transform the PUBLIC ADMINISTRATION to activate a more promising future.
But what is a Radical Learning Lab?
It´s not a traditional educational space, but a place for experimentation and teamwork with real projects and where business solutions are developed. It´s not a consultancy space either, but rather a training environment that provokes learning. It is not a fiction based on theory, but an ecosystem where business results and learning have to coexist in harmony.
A radical learning lab is a way to do, to take action and to learn fast. It is an invitation to constantly incorporate simple practices and tools that change the mentality of people and transform the culture of organizations, turning learning itself into a lever for innovation and team development, and helping them to solve complex challenges. of a world in constant change.
The radical learning laboratory model is based on practicable values ​​such as constant experimentation, positive error management, teamwork, continuous learning or the production of prototypes, that is, of unfinished and perfectible solutions that aspire to respond to some of the great challenges posed by the present moment.
 The purpose of TeamLabs/ is "to make the world a radical learning laboratory to address the great problems of this society of uncertainty" generating an impact on four main groups: university students, educational institutions, corporations and public administrations.
The TeamLabs/ methodology to reach the learning mindset:
Our methodology is based on a laboratory culture where learning is understood in its most radical sense: we invite you to be wrong.
We operate in learning laboratories.
We learn self-managed and self-propelled in an autonomous way.
We learn in community and as a team with continuous feedback.
We learn by doing (learning by doing), experimenting, exploring.
We learn by creating diverse, mestizo ecosystems that grow in difference.
We learn by embarking on international trips: our business missions.
We learn to do without knowing beforehand. We learn by working and we work by learning.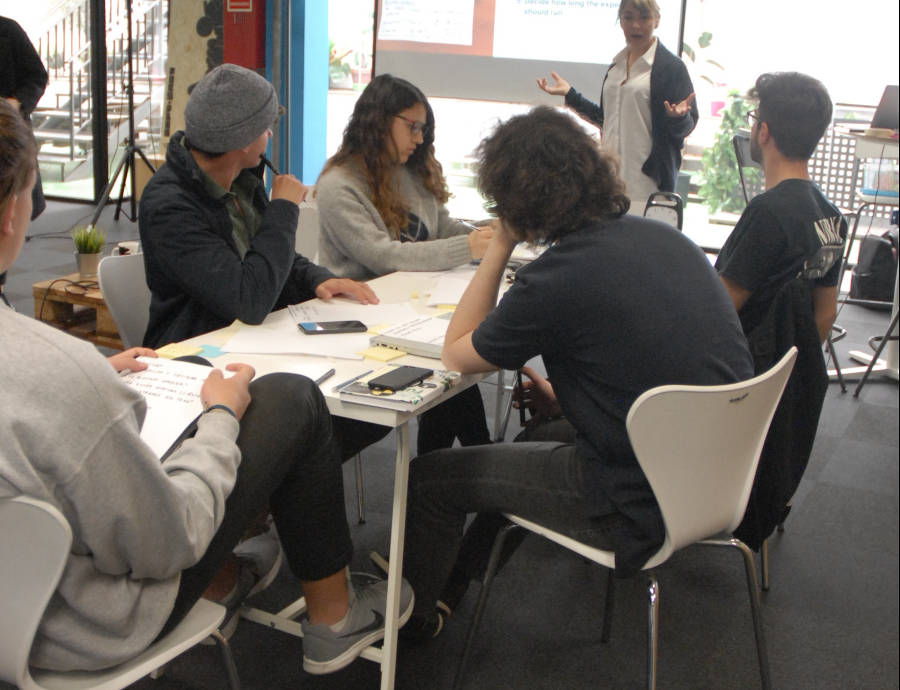 What this learning mindset brings you:
Anticipation capacity: work from today on what will come before it arrives.
Greater impact and transformative capacity: Address complex and unprecedented problems.
Reaction capacity: take action from the ability to not be afraid or to block yourself for not knowing.
Creation of high performance teams: build from trust, communication, self-propulsion.
Innovation capacity: develop your responsibility (accountability), resilience, entrepreneurship and intra-entrepreneurship.